New For Subscribers
Issue 193 Features:
Editor's Couch: Immersive Sound—2015; A Study In Spatial Surround Dimensionality Of 25 Over-Ear And On-Ear Headphones
New Equipment
• CEDIA 2014 The Ultimate Report Part III: Video
Science Of Imaging
• Joe Kane's It's In The Details
Also
• High-Resolution Audio: Does It Matter?
• Review of the Datasat LS10 Surround Sound Processor With Auro-3D
• Samsung UN65HU9000FXZA: 65-Inch Curved 4K 3D LCD HDTV
• One Installer's Opinion: Ceiling Envy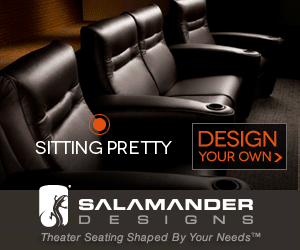 See What's In
The New Issue Of WSR
or check out all of our
back issues
Subscribe to our RSS feed
Reason #81 Why Readers Love Widescreen Review:
I saw my first issue in a newsstand two years ago. The movie reviews caught my attention right away. They were extremely thorough with their inclusion of such items as release dates, aspect ratios, and list of main creators like cinematographer, director, and writers. The breakdown of the critic's composite score is very telling and useful. Equipment reviews are extremely comprehensive and tend to cover a greater range of brands than most publications. One Installer's Opinion is a gem. I've been a subscriber for over a year now and have two of your special publications, both of which are first rate. You seem to be a couple of months ahead of your rival publications with reviews, and new equipment announcements are testament to the quality and dedication of your staff. I'm eagerly looking forward to the next issue as always.
William Wells